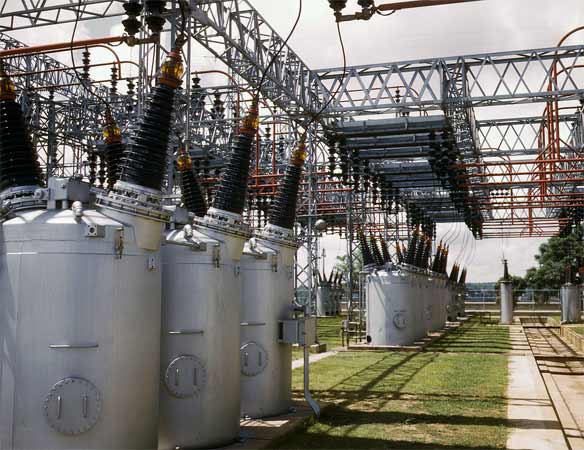 Oil circuit breakers in a switchyard. Photo: Wikimedia.
Circuit breakers are critical links in a fault-clearing situation. When a fault occurs on the electrical system, the associated current must be interrupted quickly and reliably to prevent catastrophic damage to equipment and nearby personnel.
All circuit breakers have contacts, and when the contacts separate during a fault clearing operation, they draw an arc. The electric arc forms between the contacts and is drawn out in length as the contacts open.
For this reason, circuit breakers require a device to control or remove the arc. The four common mediums used to extinguish an arc during breaker contact separation are Oil, Air, Gas, and opening in a Vacuum.
---
1. Air Circuit Breaker
Air circuit breakers are the most common type of medium-voltage breaker found in industrial environments due to the age of the equipment and low cost.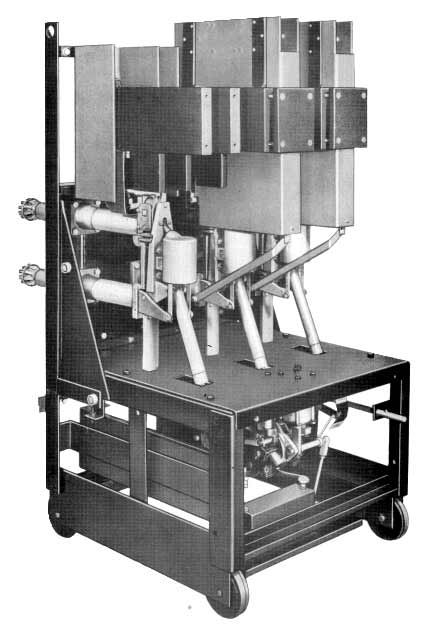 Air circuit breaker with Barrier Assembly and one Arc Chute removed. Photo: Westinghouse.
Air circuit breakers usually include operating mechanisms that are exposed to the surrounding environment. Convection cooling air assists in keeping the operating components within reasonable temperature limits.
The main contact assembly is mounted on a contact arm that is pivoted to open or close the main contacts by a spring powered operating mechanism, triggered through the trip or closing coils by a control switch or protective relay. The current interruption capability of air circuit breakers is dependent in part upon their ability to extinguish the arc that is generated when the breaker main contacts open or close.
Blowout coils may be used to extinguish the arc by means of a magnetic blast. The arc created when the contacts open is subjected to the action of a magnetic field set up by coils connected in series with the circuit being interrupted.
These coils are called blowout coils because they help blow out the arc magnetically. The arc is magnetically blown into arc chutes where the arc is lengthened, cooled, and extinguished.
The breaking action becomes more effective with heavy currents. This results in higher breaking capacities for these breakers.
Puffer tubes incorporate the operating mechanism to blow a puff of air through a tube and nozzle to each contact assembly when the breaker is opened. The air helps quench the arc by pushing it up into the arc-chute.
Medium-voltage air circuit breakers found in an industrial environment are usually of the draw-out type, meaning the breaker is movable and can be separated ("racked out") or connected ("racked in") to the power source using either a manual or electrically operated racking device.
Very few of this type of breaker are still being produced in favor of vacuum technology.
---
2. Vacuum Circuit Breaker
Vacuum circuit breakers are the most popular type of medium-voltage breaker for industrial environments due to their compact size and improved reliability compared to air circuit breakers.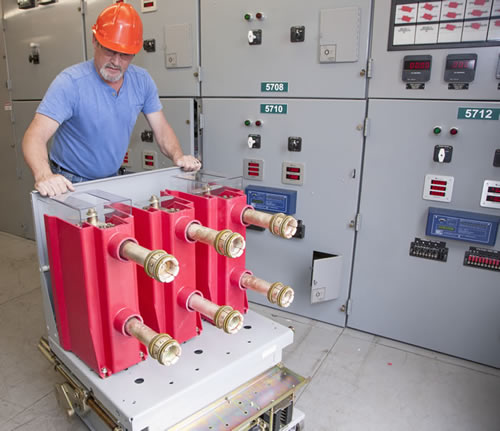 Vacuum circuit breakers have a more compact size and improved reliability compared to air circuit breakers.
Vacuum circuit breakers are similar to air circuit breakers with the main difference being that the contact assembly is housed in a vacuum bottle. The moveable contact assembly is comprised of a stem, having the enclosed contact at one end, and a driving mechanism at the other end located outside the vacuum bottle.
Compression springs are provided in connection with the contact assembly in order to separate the moveable contact from the fixed contact and to apply the force necessary to keep the contacts from opening unintentionally.
As with air circuit breakers, the actuator may be operated manually or electrically by trip and close coils, triggered by a protective relay. Like air circuit breakers, medium-voltage vacuum breakers in an industrial environment are typically a draw-out type.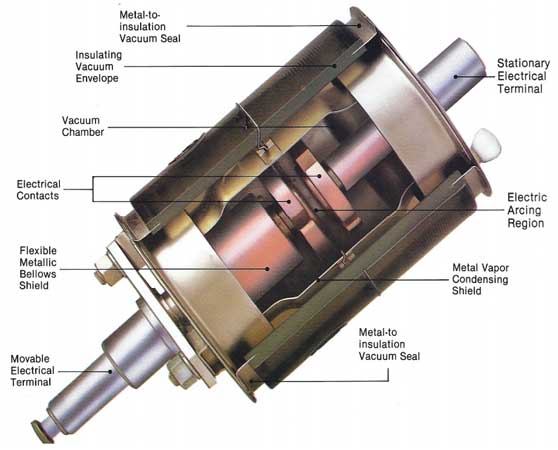 Internal components of a circuit breaker vacuum interrupter. Photo: USNRC.
Vacuum circuit breakers offer many advantages compared to other types, including:
relatively long life due to contact erosion being controlled within the vacuum bottle
maintenance-free operation - contacts are enclosed within a hermetically sealed housing
superior reliability thanks to the use of hard contact materials
virtually no atmospheric contact contamination, which reduces contact oxides and corrosion
quiet operation due to containment of arcing within the vacuum bottle
little or no environmental effects
low current chop, resulting in reduced transient voltage spikes during interruption, lowering the likelihood of needing surge suppressors
---
3. Oil Circuit Breaker
Oil circuit breakers, which are typically located outdoors, were common place in the past but are becoming more scarce in the industrial environment as they are mostly being replaced with vacuum circuit breakers.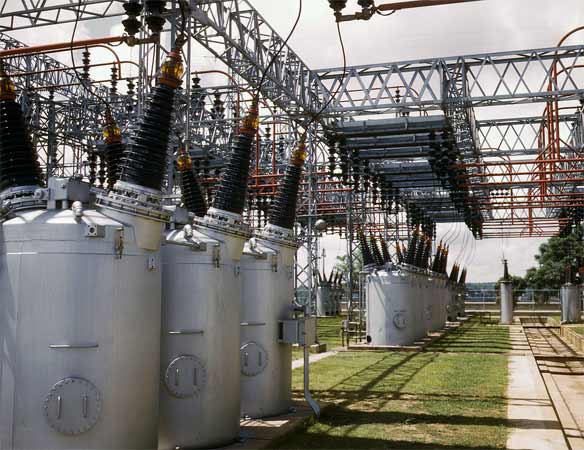 Oil circuit breakers in a switchyard. Photo: Wikimedia.
All contacts and mechanism assemblies are housed within an oil-filled tank, which provides both an insulation and arc-quenching means. A medium-voltage oil circuit breaker in an industrial environment is typically a stand-alone type and requires that oil be drained and the breaker de-tanked to perform maintenance.
A typical oil circuit breaker includes the same operational characteristics as an air circuit breaker.
---
4. Gas Circuit Breaker
Gas circuit breakers, which are almost exclusively used in outdoor applications, are increasingly favored over oil circuit breakers because of their lower maintenance costs. The arc generated in this style of breaker is extinguished in a chamber filled with pressurized sulfur hexafluoride (SF6) gas, an inorganic, non-flammable gas that is an excellent electrical insulator.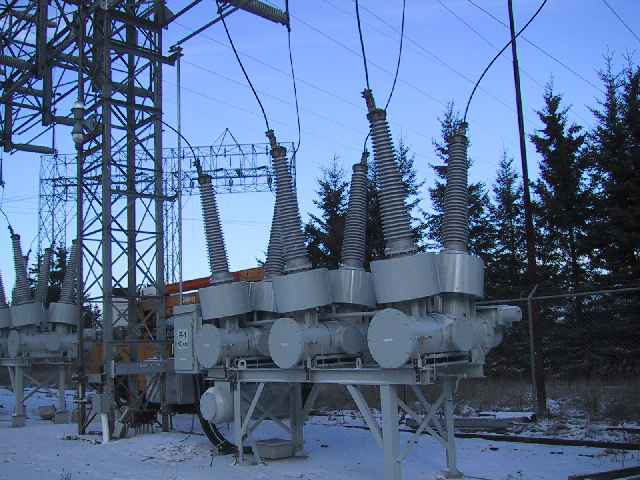 High voltage SF6 circuit breaker (115kV). Photo: Wikimedia.
SF6 circuit breakers are similar to vacuum circuit breakers with the main difference being that the contact assembly is housed in a pressurized bottle. During operation, this highly compressed gas is released through the arc in breaker, collected into a relatively low-pressure reservoir and then pumped back into the high-pressure reservoir for to be reused.
One distinct advantage gas breakers have over vacuum breakers is if the gas bottle loses pressure, the residual SF6 gas can be enough to allow the breaker to open safely under a normal load. The main disadvantage of SF6 is its negative effects on the atmosphere as a potent greenhouse gas.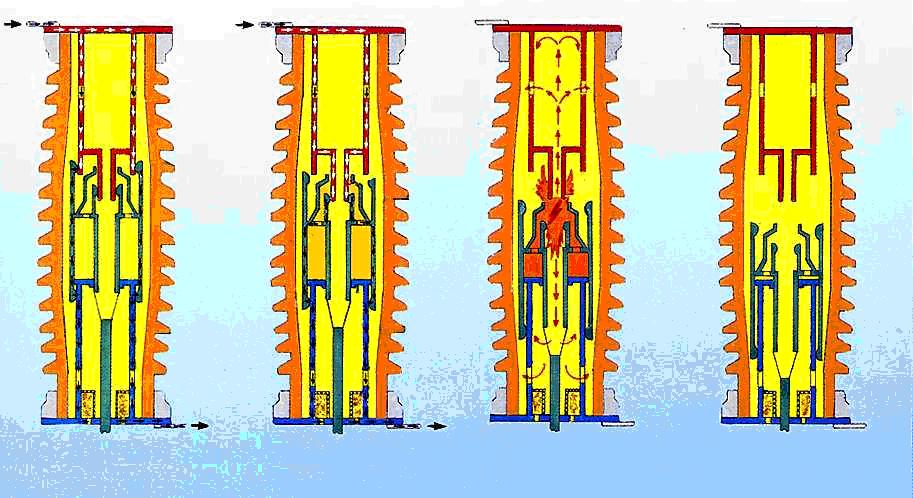 Operation of Gas Circuit Breaker. Photo: Wikimedia.
---
References