In liquid-filled transformers and other power distribution equipment, the fluid inside serves as the lifeblood, functioning both as a dielectric and a cooling medium. Insulating liquid can be found in various types of apparatus, including transformers, tap changers, circuit breakers, and switches.
The choice of insulating liquid for a specific application depends on the required performance and the installation conditions of the equipment. For instance, an indoor transformer application would call for an insulating liquid less prone to fire hazards, while equipment located outdoors might require a liquid with superior cooling properties.
A technician will encounter various types of insulating fluids throughout their career, depending on the age, type, and location of the equipment they service. Certain liquids, no longer available on the market due to environmental hazards and performance issues, persist in service with older equipment.
Technical Properties of Insulating Liquids
Before delving into the specifics of each fluid and their comparisons, it's important to establish a general understanding of the properties involved in determining the type of insulating liquid to be used. The primary considerations include fire hazards, dielectric strength, and environmental impact.
Fire Point: The temperature at which the liquid will continue to burn after ignition for at least 5 seconds. NFPA 70 Article 450-23 requires "less flammable liquids" to have a Fire Point greater than 300°C.
Flash Point: The lowest temperature at which the liquid can form a vapor near its surface that will "flash" or briefly ignite when exposed to an open flame. It is considered a general indication of the flammability or combustibility of a petroleum liquid.
Dielectric Strength: The maximum electric field strength that a liquid can naturally withstand without breaking down and becoming electrically conductive. It is the primary property that determines the viability of a liquid as an insulating fluid. A higher dielectric strength indicates greater resistance to electrical charges.
Insulating Fluid Dielectric Breakdown Voltage Testing. Photo: Wikimedia.
Power Factor: Also called the "dissipation factor," this property indicates how much energy is dissipated through the fluid as heat. The power factor measures how "efficient" the insulating fluid is and can be a great indication of contamination and deterioration. A lower power factor means its a better insulator.
Viscosity: The thickness of a fluid describes its internal resistance to flow, which can be thought of as a measure of fluid friction. Water has a low viscosity which makes it flow quickly whereas honey has a higher viscosity which makes it flow slowly. A liquid with a lower viscosity allows for better flow and heat transfer through a cooling system.
Specific Gravity: The ratio of the density of the fluid to the density of water. Since water has a specific gravity of 1.0, free water in an insulating fluid will migrate to the top or bottom depending on the specific gravity of the insulating liquid. The dielectric breakdown of most insulating fluid is inversely related to the water content, meaning the dielectric strength of the fluid is lowered as its water content increases.
Electrical Dielectric Fluid Specific Gravity Photo: TestGuy
Interfacial Tension: The force of attraction between the molecules at the interface of two fluids, namely oil and water. Interfacial tension indicates the presence of soluble contaminants and oxidation products in an insulating fluid, a decreasing value indicates an increase in contaminants and/or oxidation products within the fluid.
Pour Point: Indicates the lowest temperature at which the insulating fluid will flow. This value is important in cold climates to ensure that the oil will circulate and serve its purpose as an insulating and cooling medium.
Biodegradability: Describes the ability of an insulating liquid to decay through the action of living organisms. This is a direct indication of how harmful a fluid is to the environment when it spills or cannot be contained.
4 Major Insulating Fluid Types
The common types of insulating liquids used in today's market include mineral oil, silicone, hydrocarbon, and natural esters. Each of these fluids possesses unique physical and insulating properties that determine their specific applications.
1. Mineral Oil
Conventional mineral oil is likely the oldest and most widely used dielectric fluid that a technician will encounter. This liquid is a preferred option for outdoor transformers owing to its established record of dielectric strength and thermal performance. The primary drawback of mineral oil is its classification as a flammable liquid with low biodegradability, imposing restrictions on its use and containment.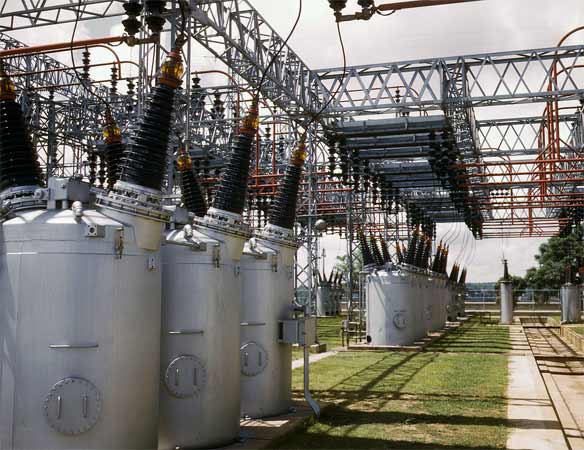 HV Oil Circuit Breakers are typically filled with mineral oil. Photo: Wikimedia.
2. Silicone
When a less-flammable liquid is required, Silicone has traditionally been the insulating fluid of choice. It boasts a relatively high ignition point, making it well-suited for indoor and vaulted areas. However, Silicone has its drawbacks, including chemical byproducts and a high cost associated with its use. In comparison to mineral oil, it exhibits similar dielectric strength and a higher specific gravity but lacks biodegradability.
3. Hydrocarbon
Fluids containing highly refined petroleum oils exhibit fire-resistant properties, making them an ideal choice in applications where a less-flammable liquid is necessary. These fluids possess excellent insulating and cooling qualities, although they have a lower ignition point compared to silicone and are also more expensive than mineral oil. Hydrocarbon fluid shares a specific gravity and power factor similar to that of mineral oil and is highly biodegradable.
4. Natural Ester
When considering environmental impact, natural ester fluid stands out as a top choice because it is derived from non-toxic natural oils (such as soy) and is completely biodegradable. These fluids are self-extinguishing, making them ideal for indoor installations, and exhibit superior moisture absorption compared to other liquids. Additionally, natural esters have the highest dielectric strength among the various fluid types. However, their major disadvantages include higher cost and a higher power factor, which can result in elevated operating temperatures.
Polychlorinated biphenyls (PCB)
Polychlorinated biphenyls were used in electrical transformers manufactured between 1929 and 1977, primarily installed in residential, commercial buildings, and industrial facilities prior to 1978. A "PCB transformer" is a transformer known or assumed under TSCA to contain PCBs at concentrations greater than 500 parts per million (ppm). "PCB-Contaminated Transformers," known or assumed under TSCA to contain between 50 and 499 ppm PCBs, are also subject to EPA regulations.
PCBs have been used as coolants and lubricants in transformers, capacitors, and other electrical equipment because they don't burn easily and are good insulators. These compounds have been shown to cause a variety of adverse health effects and are associated with acne-like skin conditions in adults and neurobehavioral and immunological changes in children. The EPA has also classified all PCBs as probable human carcinogens.
Insulating Liquid Testing
Regular maintenance of electrical equipment is paramount for ensuring a long service life and identifying potential failures before they occur. As mentioned earlier, the insulating fluid serves as the lifeblood of a liquid-filled apparatus. Regular sampling and laboratory analysis can provide valuable insights into the equipment's condition that routine electrical tests may not detect.
Laboratory tests typically measure the physical and electrical properties of an insulating fluid, as discussed earlier. These properties include dielectric strength, flash point, interfacial tension, water content, power factor, and specific gravity, among others. Visual examinations, such as color and transparency, can also provide valuable insights into contaminants and indicate whether electrical arcing has occurred inside the equipment.
Laboratory tests typically measure the physical and electrical properties of an insulating fluid. Photo:
piqsels.com
NETA acceptance and maintenance testing standards specify the analysis to be conducted on electrical power distribution equipment in accordance with ASTM standards. Each apparatus, voltage class, fluid type, and service age will require its own unique set of tests and parameters based on these standards.
Related: ASTM Insulating Oil Test Methods
Transformers
Dielectric Breakdown
Acid Number
Specific Gravity
Interfacial Tension
Color
Visual Examination
Moisture Content
Power Factor
Dissolved Gas
Regulators / Tap Changers
Dielectric Breakdown
Acid Number
Specific Gravity
Interfacial Tension
Color
Visual Condition
Power Factor
Water Content
Dissolved Gas
Oil Circuit Breakers
Dielectric Breakdown
Color
Power Factor
Interfacial Tension
Visual Condition
Neutralization Number
Water Content
Oil Switches
Dielectric Breakdown
Color
Visual Examination
Capacitors and Reactors
Dielectric Breakdown
Acid Number
Specific Gravity
Interfacial Tension
Color
Visual Condition
Water Content
Power Factor
Dissolved Gas
References