We're thrilled to introduce the brand-new Contributor Badge, the ultimate symbol of dedication and substantial contributions to our community! This exclusive badge is the result of hard work and commitment, and it's granted only by our administrators.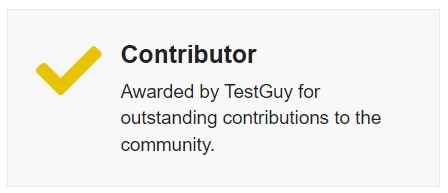 Curious about how you can get on the path to earning this badge? It's easier than you might think, and it all starts with being an active and engaged member of our community. Here are some ways you can work your way toward earning one:
1. Help Us Keep Things Tidy: Report Broken Links and Suggest Minor Edits
Spot a broken link or think something needs a tweak? Don your detective hat and help us keep our platform in tip-top shape. Your sharp eye and suggestions are invaluable!
2. Share Your Insights: Engage in Discussions and Comment on Articles
When you read an article or join a discussion, don't be shy! Share your thoughts and insights. Your comments add depth to our conversations and enrich our community.
3. Be an Active Participant: Join Discussions and Contribute Valuable Insights
Being part of our discussions is more than just chatting. Your input can spark new ideas and drive meaningful conversations. Don't hesitate to jump in and share your wisdom!
4. Showcase Your Expertise: Post Your Articles and Tutorials
Got some expert knowledge to share? We'd love to hear it! Contribute by posting your own articles or tutorials. Sharing your expertise benefits everyone in the community.
A symbol of dedication
The Contributor Badge is more than just a badge; it's a testament to your commitment and dedication to our community. By actively participating and contributing on a regular basis, you'll be well on your way to earning one.
If you have any questions, suggestions, or ideas to make our community even better, please don't hesitate to share them. Let's collectively work towards improving our community, one valuable contribution at a time!